Buy OraMD today and receive Dr. Tom McGuire's book, Healthy Teeth - Healthy Body, For Free!
Ordering OraMD is easy. Simply decide what you want to order below (Sample Pack, Starter Pack, or Super Pack), and then Click the Add to Cart button and follow the simple checkout instructions. Our Shopping Cart is 100% secure and your information is encrypted with industry standard security. We accept all major credit cards, and Paypal. To place your order toll free call 888-423-7500. (For additional information about OraMD, including Testimonials, Dr. Tom's Endorsement, and the Cost Comparison to leading brands of toothpaste, mouth wash, and breath fresheners scroll down the page.)
Learn the Reasons to Choose OraMD Extra Strength
Please Note: The free bonuses of Dr. McGuire's books, Healthy Teeth - Healthy Body & The Poison in Your Teeth, are offered as free eBook downloads.


OraMD is Endorsed by the World's Leading Authority on Oral Health

"OraMD is 100% natural and the real benefit to patients is that it not only kills bacteria, but can replace toothpaste, mouthwash, and even breath fresheners. As a leading authority on dental wellness, I highly recommend OraMD. I can assure you, that if you use this natural product and follow the oral hygiene program in my book, Healthy Teeth - Healthy Body, you'll see significant improvements in your oral health."
Click here to read Dr. Tom's full quote.

Dr Tom McGuire's Dental Wellness Institute
Your OraMD Questions Answered:
How does OraMD's costs compare to clinical strength products?
OraMD is a 100% Pure and Natural proprietary formula of 3 essential oils of Peppermint, Spearmint, and Almond. Unlike other commercial oral care products, it is Fluoride-Free and does not contain any chemicals. See Price Comparison Chart below: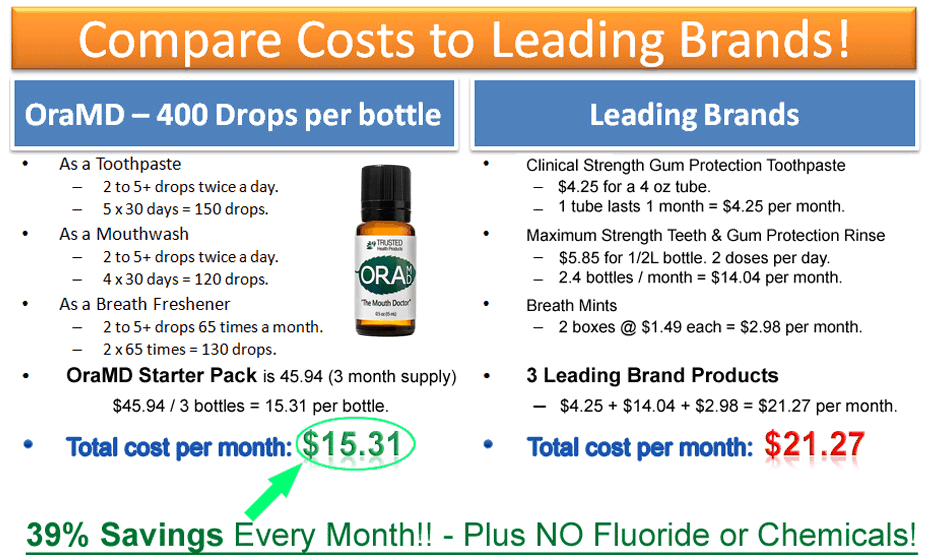 What does OraMD do?
OraMD contains ingredients found in nature that are proven to fight the harmful types of bacteria that cause many serious oral problems, including gum disease and decay. Don't just take our word for it; read what Dr. Tom McGuire says, one of the leading authorities on oral health and author of the bestselling books, Tooth Fitness, Healthy Teeth - Healthy Body, and The Poison in Your Teeth. Dr. Tom recommends and uses OraMD himself and it is the only oral health product he endorses. In his book he explains the important relationship of oral to overall health and why you can't be healthy without good oral health. Healthy Teeth – Healthy Body is an easy to read book and explains everything you need to know about how to eliminate gum disease and tooth decay and restore your mouth to optimal oral health. His weapon of choice: OraMD!
How does OraMD work?
OraMD is an all natural, bacteria fighting solution made from 100% pure and natural botanical (essential) oils. It has been scientifically formulated to specifically target the known types of harmful bacteria in the mouth. Any problem with the health of your teeth or gums can, in most cases, be traced back to an excessive increase in harmful bacteria in the mouth. These bacteria latch on to food particles and sugars that you eat - releasing a powerful acid that can etch away the tooth's enamel. If not eliminated, they combine with food particles to form plaque - the yellowish, sticky film that forms on the teeth and along the gum line. If plaque goes untreated it hardens and turns into tartar (calculus), which can work its way between the teeth and under the gums, creating a bevy of oral problems – including advanced gum disease. OraMD is interdental – meaning it reaches into the areas between the teeth that most traditional toothpastes cannot access. These difficult-to-reach areas are huge breeding grounds for bacteria. By using OraMD, these dangerous bacteria can be removed.
What's in OraMD?
OraMD has only 3 ingredients: 100% pure and natural botanical oils of peppermint, spearmint and almond. There are hundreds of species of each botanical
oil available, and dozens of properties among them; literally millions of possible combinations. Our scientists spent years painstakingly matching the specific species of each to the desired outcome, and OraMD is the direct result of all that work. The oils used in OraMD are well known to fight bacteria-related oral health issues. Never before have they been scientifically formulated in this unique combination - that when used together - effectively combat the bacteria that can cause problems in the mouth.
What are some reasons to choose OraMD Extra Strength?
OraMD Extra Strength is our most potent formulation for killing the bad bacteria that commonly lead to gum problems. Although it's formulated with the same three ingredients as OraMD Original, Extra Strength's unique proprietary formula has been developed over several additional years of research to produce maximum effectiveness and quicker results.
Try OraMD today, Risk Free!
Order OraMD today, the Dentist-endorsed 100% pure & natural oral care solution, and receive Special Savings and our unique One Year, 100% Satistfaction Money-Back Guarantee.
Or Order by Phone: 1-888-423-7500,
and be sure to give our operator the name of your Dentist.

Please Note: The free bonuses of Dr. McGuire's books, Healthy Teeth - Healthy Body & The Poison in Your Teeth, are offered as free eBook downloads.